Sanwo Technologies Limited, the trusttech firm devoted to enabling risk-free online transactions across Africa, prominently featured as one of the key sponsors of the recently concluded Ibadan Tech Expo, held at The International Conference Center, Agbowo, Ibadan on Saturday, September 9th, 2023.
The expo, which boasted an impressive turnout of over 6,000 attendees, was graced by distinguished keynote speakers, Hon. Akin Alabi, Member of the Federal House of Representatives, and Seun Onigbinde, Director of BudgIT. The event also spotlighted over 50 innovative tech start-ups, presenting the breadth and depth of technological advancement in the region.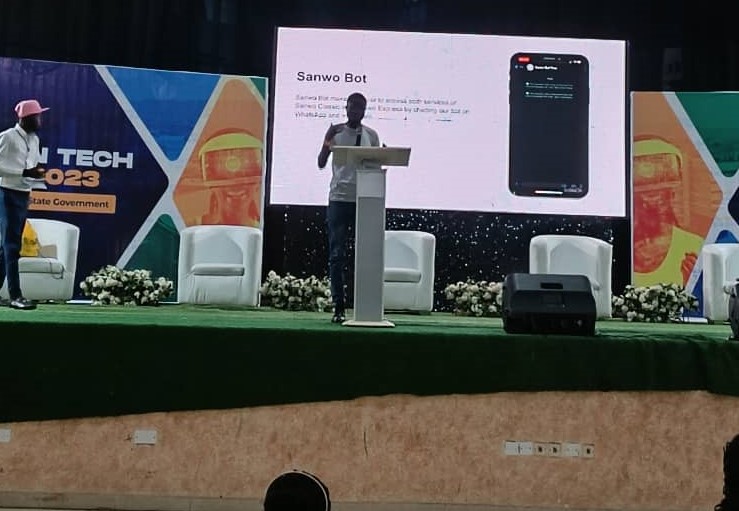 Conceived to foster collaboration, innovation, and growth within Ibadan's tech ecosystem, the expo succeeded in its mission by curating a diverse array of attendees spanning software developers, angel investors, tech content creators, startup founders, policymakers, and many more.
Ibrahim Oredola, Co-founder of Sanwo Technologies, took a prominent seat on the panel titled "Navigating the Ibadan Tech Ecosystem: Strategies for Building and Scaling Successful Tech Startups in Ibadan". Alongside him were notable tech leaders including Tunde Buremo, CEO of Cardify Africa, Sam Aiyesoro, MD/CEO of Wiseki Technologies, Rasheed Ridwan, Co-founder of Shiip, and Sanmi Adebunmi, CEO of PatchPay. The discussion was insightful, drawing on the experiences of the panellists and their strategies for navigating the unique challenges and opportunities in Ibadan's burgeoning tech ecosystem.
In addition, Sanwo's Product Lead and Co-Founder, Malik Kolade, captivated attendees with a product showcase. He eloquently demoed Sanwo's range of products: Sanwo Classics, Express, Sanwo Travels, Sanwo API, and Sanwo Escrow bot. The audience received a detailed understanding of how each product functions, and how individuals and businesses could leverage Sanwo to ensure their transactions are secure and their businesses managed seamlessly.
One of the event's highlights was Sanwo's exhibition booth. Beyond just being a space for interactions and queries, the booth turned into a hub of excitement as Sanwo deployed a gamified marketing feature on its web app. This innovative approach ensured that attendees didn't leave empty-handed, with hundreds walking away with Sanwo-branded merchandise, further establishing the brand's presence and commitment to the tech community.
The Ibadan Tech Expo 2023 proved to be more than just an event; it was a testament to the city's growing technological prowess and the potential it holds. And for Sanwo Technologies, it was an affirmation of their significant role in redefining the future of secure online transactions in Africa.